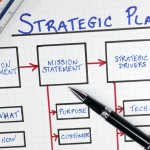 On May 29, 2013, I held a seminar on strategic planning at one of our coworking partner sites, The Yard. It was a great event, and many smart questions were asked from the audience. So, I thought it would be good to recap some of the main points of why strategic planning is important and how to develop a solid plan.
WHAT IS STRATEGIC PLANNING?
Aim to improve the results of your company over a specified time period
Starts with a macro view of your company
Concerned with vision, mission, and direction of the company (long-term focus; minimum 5 years out)
Understanding where you are currently
Defining the steps necessary to achieve your strategy
How to efficiently allocate your resources
Monitoring & measuring progress through quantifiable measures
Communicating progress and results to stakeholders
HOW TO DEVELOP A STRATEGIC PLAN
Step 1- Develop a mission statement

Define mission, vision, and beliefs
Answer question of why you exist as an organization
What is the purpose of your company?
What is it that you want your company to accomplish?
How will the company accomplish it?
What are the core values of the company?
Step 2 – Determine where your company is right now

Understand differentiation factors
Examine market data – industry information, competitor performance and profile, customer surveys
Examine internal data – know your KPIs (Key Performance Indicators)
Understand customer concerns
Understand stakeholder concerns
Step 3 – Synthesize the information through strategic analysis tools

SWOT Analysis
Balance Scorecard
Step 4 – Develop strategic objectives

Determine where you want the company to be in the future
What is the clearest path to achieving the goal?
Step 5 – Identify short-term goals

Goals should be SMART (Specific, Measurable, Actionable / Attainable, Realistic / Relevant, and Time bound)
Step 6 – Cascade goals from top down (company –> department –> individual)

Communicate goals to all teams members, so everyone know what their piece is
Step 7 – Develop strategies & tactics

Day to day operational activities that need to be accomplished
Step 8 – Resource requirements and allocation

How much will it cost to implement plan?
How many people need to be assigned to the job?
How much time is needed from the team?
Step 9 – Monitoring and decision making

Identify review process (factors to examine, how often to examine, and other benchmarks)
Does the plan need to be adjusted?
What is the reason for not meeting the plan?
What additional actions need to be done?